Countries listed by GDP per capita in 2013
By Wikipedia,
the free encyclopedia
This article includes four lists of countries of the world sorted by their gross domestic productper capita at nominal values. This is the value of all final goods and services produced within a nation in a given year, converted at market exchange rates to current U.S. dollars, divided by the average (or mid-year) population for the same year.
The figures presented here do not take into account differences in the cost of living in different countries, and the results can vary greatly from one year to another based on fluctuations in theexchange rates of the country's currency. Such fluctuations may change a country's ranking from one year to the next, even though they often make little or no difference to the standard of living of its population.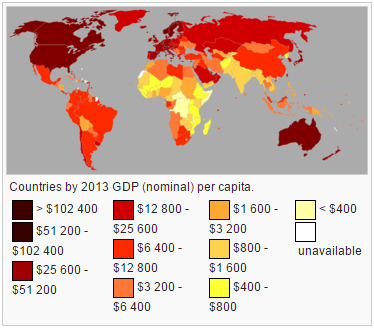 Therefore these figures should be used with caution. GDP per capita is often considered an indicator of a country's standard of living; although this can be problematic because GDP per capita is not a measure of personal income. See Standard of living and GDP.
Comparisons of national income are also frequently made on the basis of purchasing power parity(PPP), to adjust for differences in the cost of living in different countries. (See List of countries by GDP (PPP) per capita.) PPP largely removes the exchange rate problem, but has its own drawbacks; it does not reflect the value of economic output in international trade, and it also requires more estimation than GDP per capita. On the whole, PPP per capita figures are more narrowly spread than nominal GDP per capita figures.
Non-sovereign entities (the world, the European Union, and some dependent territories) are included in the list because they appear in the sources. These economies are not ranked in the charts here, but are listed in sequence by GDP for comparison. They are marked in italics.
All data are in current United States dollars.
International Monetary Fund (2013)
World Bank (2013)

| Rank | Country | US$ |
| --- | --- | --- |
| 1 | Luxembourg | 112,473 |
| 2 | Norway | 100,579 |
| 3 | Qatar | 98,986 |
| 4 | Switzerland | 81,276 |
| 5 | Australia | 64,578 |
| 6 | Denmark | 59,129 |
| 7 | Sweden | 58,014 |
| 8 | Singapore | 55,182 |
| 9 | United States | 53,001 |
| 10 | Canada | 52,037 |
| 11 | Netherlands | 50,816 |
| 12 | Finland | 49,055 |
| 13 | Austria | 49,039 |
| 14 | Ireland | 48,608 |
| 15 | Belgium | 45,538 |
| 16 | Iceland | 45,416 |
| 17 | Kuwait | 45,189 |
| 18 | Germany | 44,999 |
| 19 | United Arab Emirates | 44,552 |
| 20 | France | 44,099 |
| 21 | New Zealand | 40,516 |
| 22 | Brunei | 39,659 |
| 23 | United Kingdom | 39,372 |
| 24 | Japan | 38,468 |
| — | Hong Kong | 37,955 |
| 25 | Israel | 36,926 |
| 26 | Italy | 34,715 |
| — | European Union | 34,060 |
| 27 | Spain | 29,150 |
| 28 | Bahrain | 27,926 |
| 29 | South Korea | 25,975 |
| 30 | Saudi Arabia | 24,953 |
| 31 | Cyprus | 24,867 |
| 32 | Bahamas | 23,639 |
| 33 | Slovenia | 23,317 |
| 34 | Malta | 22,892 |
| 35 | Greece | 21,857 |
| 36 | Oman | 21,456 |
| 37 | Portugal | 20,995 |
| 38 | Taiwan | 20,925 |
| 39 | Trinidad and Tobago | 20,622 |
| 40 | Equatorial Guinea | 20,605 |
| 41 | Czech Republic | 18,871 |
| 42 | Estonia | 18,852 |
| 43 | Slovakia | 17,706 |
| 44 | Uruguay | 16,421 |
| 45 | Chile | 15,776 |
| 46 | Lithuania | 15,649 |
| 47 | Latvia | 15,187 |
| 48 | Barbados | 15,173 |
| 49 | Seychelles | 14,918 |
| 50 | Argentina | 14,709 |
| 51 | Russia | 14,591 |
| 52 | Palau | 14,022 |
| 53 | Antigua and Barbuda | 13,734 |
| 54 | Kazakhstan | 13,509 |
| 55 | Poland | 13,435 |
| 56 | Croatia | 13,401 |
| 57 | Hungary | 13,388 |
| 58 | Saint Kitts and Nevis | 13,259 |
| 59 | Gabon | 12,326 |
| 60 | Brazil | 11,173 |
| 61 | Panama | 10,876 |
| 62 | Turkey | 10,721 |
| 63 | Libya | 10,702 |
| 64 | Mexico | 10,650 |
| 65 | Costa Rica | 10,528 |
| — | World | 10,486 |
| 66 | Malaysia | 10,457 |
| 67 | Lebanon | 10,077 |
| 68 | Suriname | 9,206 |
| 69 | Mauritius | 9,165 |
| 70 | Romania | 8,874 |
| 71 | Colombia | 8,031 |
| 72 | Azerbaijan | 7,900 |
| 73 | Saint Lucia | 7,888 |
| 74 | Grenada | 7,696 |
| 75 | Belarus | 7,577 |
| 76 | Venezuela | 7,576 |
| 77 | Bulgaria | 7,328 |
| 78 | Turkmenistan | 7,157 |
| 79 | Botswana | 7,120 |
| 80 | Montenegro | 7,112 |
| 81 | Dominica | 7,031 |
| 82 | China | 6,959 |
| 83 | Maldives | 6,686 |
| 84 | South Africa | 6,621 |
| 85 | Iraq | 6,594 |
| 86 | Saint Vincent and the Grenadines | 6,563 |
| 87 | Peru | 6,541 |
| 88 | Angola | 5,964 |
| 89 | Ecuador | 5,943 |
| 90 | Serbia | 5,902 |
| 91 | Dominican Republic | 5,882 |
| 92 | Thailand | 5,676 |
| 93 | Namibia | 5,636 |
| 94 | Algeria | 5,606 |
| 95 | Jordan | 5,174 |
| 96 | Jamaica | 5,100 |
| 97 | Macedonia, Republic of | 4,931 |
| 98 | Iran | 4,769 |
| 99 | Bosnia and Herzegovina | 4,620 |
| 100 | Belize | 4,619 |
| 101 | Fiji | 4,578 |
| 102 | Tonga | 4,572 |
| 103 | Albania | 4,565 |
| 104 | Tunisia | 4,317 |
| 105 | Paraguay | 4,281 |
| 106 | Samoa | 4,165 |
| 107 | East Timor | 4,142 |
| 108 | Mongolia | 3,996 |
| 109 | Ukraine | 3,930 |
| — | Kosovo | 3,898 |
| 110 | El Salvador | 3,835 |
| 111 | Guyana | 3,755 |
| 112 | Cape Verde | 3,633 |
| 113 | Georgia | 3,597 |
| 114 | Tuvalu | 3,575 |
| 115 | Indonesia | 3,510 |
| 116 | Guatemala | 3,475 |
| 117 | Swaziland | 3,473 |
| 118 | Egypt | 3,243 |
| 119 | Congo, Republic of the | 3,223 |
| 120 | Sri Lanka | 3,204 |
| 121 | Armenia | 3,173 |
| 122 | Morocco | 3,160 |
| 123 | Nigeria | 3,082 |
| 124 | Vanuatu | 2,996 |
| 125 | Bolivia | 2,793 |
| 126 | Philippines | 2,790 |
| 127 | Bhutan | 2,633 |
| 128 | Honduras | 2,283 |
| 129 | Moldova | 2,239 |
| 130 | Papua New Guinea | 2,098 |
| 131 | Sudan | 1,941 |
| 132 | Solomon Islands | 1,936 |
| 133 | Vietnam | 1,901 |
| 134 | Uzbekistan | 1,878 |
| 135 | Nicaragua | 1,831 |
| 136 | Ghana | 1,871 |
| 137 | Zambia | 1,845 |
| 138 | Laos | 1,594 |
| 139 | Djibouti | 1,593 |
| 140 | Kiribati | 1,546 |
| 141 | Yemen | 1,516 |
| 142 | India | 1,509 |
| 143 | Côte d'Ivoire | 1,332 |
| 144 | Cameroon | 1,331 |
| 145 | Kenya | 1,316 |
| 146 | South Sudan | 1,289 |
| 147 | Kyrgyzstan | 1,280 |
| 148 | Pakistan | 1,275 |
| 149 | Chad | 1,218 |
| 150 | Lesotho | 1,190 |
| 151 | Mauritania | 1,128 |
| 152 | Burma | 1,113 |
| 153 | Senegal | 1,048 |
| 154 | Tajikistan | 1,044 |
| 155 | Bangladesh | 1,033 |
| 156 | Cambodia | 1,028 |
| 157 | Zimbabwe | 1,007 |
| 158 | Comoros | 928 |
| 159 | Haiti | 819 |
| 160 | Benin | 806 |
| 161 | Sierra Leone | 805 |
| 162 | Tanzania | 719 |
| 163 | Burkina Faso | 711 |
| 164 | Rwanda | 703 |
| 165 | Nepal | 692 |
| 166 | Afghanistan | 678 |
| 167 | Mali | 646 |
| 168 | Togo | 637 |
| 169 | Uganda | 623 |
| 170 | Mozambique | 592 |
| 171 | North Korea | 583 |
| 172 | Guinea | 564 |
| 173 | Eritrea | 544 |
| 174 | Ethiopia | 541 |
| 175 | Guinea-Bissau | 524 |
| 176 | Madagascar | 488 |
| 177 | Liberia | 473 |
| 178 | Gambia, The | 453 |
| 179 | Niger | 443 |
| 180 | Congo, Democratic Republic of the | 397 |
| 181 | Central African Republic | 333 |
| 182 | Burundi | 303 |
| 183 | Malawi | 222 |
| - | Syria | n/a |

| Rank | Country | US$ |
| --- | --- | --- |
| 1 | Monaco | 163,026 |
| 2 | Liechtenstein | 134,617 |
| 3 | Luxembourg | 111,162 |
| 4 | Norway | 100,819 |
| 5 | Qatar | 93,352 |
| — | Macau | 91,376 |
| — | Bermuda | 84,471 |
| 6 | Switzerland | 80,477 |
| 7 | Australia | 67,468 |
| 8 | San Marino | 62,188 |
| 9 | Denmark | 58,894 |
| 10 | Sweden | 58,269 |
| 11 | Kuwait | 56,367 |
| 12 | Singapore | 55,182 |
| 13 | United States | 53,143 |
| 14 | Canada | 51,911 |
| — | Isle of Man | 49,817 |
| 15 | Austria | 49,074 |
| 16 | Netherlands | 47,617 |
| 17 | Ireland | 47,400 |
| 18 | Finland | 47,219 |
| 19 | Andorra | 46,418 |
| — | Faroe Islands | 44,317 |
| 20 | Belgium | 45,387 |
| 21 | Iceland | 45,263 |
| 22 | Germany | 45,085 |
| 23 | United Arab Emirates | 41,692 |
| 24 | France | 41,421 |
| 25 | New Zealand | 40,842 |
| 26 | United Kingdom | 39,351 |
| 27 | Brunei | 38,563 |
| 28 | Japan | 38,492 |
| — | Hong Kong | 38,124 |
| 29 | Israel | 36,151 |
| 30 | Italy | 34,619 |
| — | European Union | 34,072 |
| — | Cayman Islands | 30,191 |
| 31 | Spain | 29,118 |
| — | Puerto Rico | 27,795 |
| 32 | Cyprus | 26,352 |
| 33 | Korea, South | 25,977 |
| 34 | Saudi Arabia | 25,852 |
| — | Aruba | 25,355 |
| 35 | Bahrain | 24,613 |
| — | Greenland | 22,508 |
| 36 | Oman | 22,181 |
| 37 | Slovenia | 22,059 |
| 38 | Greece | 21,910 |
| 39 | Bahamas | 21,908 |
| 40 | Portugal | 21,029 |
| 41 | Malta | 20,839 |
| 42 | Equatorial Guinea | 20,572 |
| 43 | Czech Republic | 18,861 |
| 44 | Estonia | 18,478 |
| 45 | Trinidad and Tobago | 18,373 |
| 46 | Slovakia | 16,893 |
| 47 | Uruguay | 16,351 |
| 48 | Chile | 15,732 |
| 49 | Barbados | 14,917 |
| 50 | Argentina | 14,760 |
| 51 | Russia | 14,612 |
| 52 | Venezuela | 14,415 |
| 53 | Seychelles | 14,220 |
| 54 | Lithuania | 14,172 |
| 55 | Latvia | 13,947 |
| 56 | Saint Kitts and Nevis | 13,710 |
| 57 | Antigua and Barbuda | 13,669 |
| 58 | Croatia | 13,530 |
| 59 | Poland | 13,432 |
| 60 | Kazakhstan | 13,172 |
| 61 | Hungary | 12,560 |
| 62 | Libya | 12,167 |
| 63 | Palau | 11,810 |
| 64 | Gabon | 11,571 |
| 65 | Malaysia | 11,513 |
| 66 | Brazil | 11,208 |
| 67 | Panama | 11,037 |
| 68 | Turkey | 10,946 |
| — | World | 10,472 |
| 69 | Mexico | 10,307 |
| 70 | Costa Rica | 10,185 |
| 71 | Lebanon | 9,928 |
| 72 | Suriname | 9,700 |
| 73 | Romania | 9,499 |
| 74 | Mauritius | 9,210 |
| 75 | Turkmenistan | 7,987 |
| 76 | Grenada | 7,876 |
| 77 | Colombia | 7,826 |
| 78 | Azerbaijan | 7,812 |
| 79 | Belarus | 7,575 |
| 80 | Botswana | 7,317 |
| 81 | Saint Lucia | 7,309 |
| 82 | Bulgaria | 7,296 |
| 82 | Montenegro | 7,126 |
| 83 | Dominica | 7,011 |
| 84 | China | 6,807 |
| 85 | Iraq | 6,670 |
| 86 | Maldives | 6,666 |
| 87 | Peru | 6,660 |
| 88 | Saint Vincent and the Grenadines | 6,634 |
| 89 | South Africa | 6,618 |
| 90 | Cuba | 6,051 |
| 91 | Serbia | 5,935 |
| 92 | Dominican Republic | 5,826 |
| 93 | Thailand | 5,779 |
| 94 | Ecuador | 5,720 |
| 95 | Angola | 5,668 |
| 96 | Namibia | 5,462 |
| 97 | Algeria | 5,361 |
| 98 | Jamaica | 5,290 |
| 99 | Jordan | 5,214 |
| 100 | Macedonia, Republic of | 4,851 |
| 101 | Belize | 4,834 |
| 102 | Iran | 4,763 |
| 103 | Bosnia and Herzegovina | 4,656 |
| 104 | Albania | 4,652 |
| 105 | Fiji | 4,572 |
| 106 | Tonga | 4,427 |
| 107 | Paraguay | 4,403 |
| 108 | Tunisia | 4,329 |
| 109 | Mongolia | 4,056 |
| 110 | Ukraine | 3,900 |
| 111 | Tuvalu | 3,861 |
| 112 | Guyana | 3,847 |
| 113 | El Salvador | 3,826 |
| — | Kosovo | 3,816 |
| 114 | Cape Verde | 3,785 |
| 115 | Samoa | 3,647 |
| 116 | Georgia | 3,602 |
| 117 | Armenia | 3,505 |
| 118 | Guatemala | 3,478 |
| 119 | Indonesia | 3,475 |
| 120 | Marshall Islands | 3,325 |
| 121 | Egypt | 3,314 |
| 122 | Vanuatu | 3,303 |
| 123 | Syria | 3,289 |
| 124 | Sri Lanka | 3,280 |
| 125 | Micronesia, Federated States of | 3,235 |
| 126 | Congo, Republic of the | 3,172 |
| 127 | Morocco | 3,109 |
| 128 | Swaziland | 3,034 |
| 129 | Nigeria | 3,010 |
| 130 | Bolivia | 2,868 |
| 131 | Philippines | 2,765 |
| — | West Bank and Gaza | 2,530 |
| 132 | Bhutan | 2,498 |
| 133 | Honduras | 2,291 |
| 134 | Moldova | 2,230 |
| 135 | Papua New Guinea | 2,088 |
| 136 | Solomon Islands | 1,954 |
| 137 | Vietnam | 1,911 |
| 138 | Uzbekistan | 1,878 |
| 139 | Nicaragua | 1,851 |
| 140 | Ghana | 1,850 |
| 141 | Sudan | 1,753 |
| 142 | Djibouti | 1,668 |
| 143 | Kiribati | 1,651 |
| 144 | Laos | 1,646 |
| 145 | São Tomé and Príncipe | 1,610 |
| 146 | Zambia | 1,540 |
| 147 | Côte d'Ivoire | 1,521 |
| 148 | India | 1,499 |
| 149 | Yemen | 1,473 |
| 150 | East Timor | 1,371 |
| 151 | Cameroon | 1,315 |
| 152 | Pakistan | 1,299 |
| 153 | Kyrgyzstan | 1,263 |
| 154 | South Sudan | 1,221 |
| 155 | Lesotho | 1,075 |
| 156 | Senegal | 1,072 |
| 157 | Mauritania | 1,070 |
| 158 | Chad | 1,046 |
| 159 | Tajikistan | 1,037 |
| 160 | Cambodia | 1,008 |
| 161 | Kenya | 994 |
| 162 | Zimbabwe | 905 |
| 163 | Comoros | 894 |
| 164 | Bangladesh | 829 |
| 165 | Haiti | 820 |
| 166 | Sierra Leone | 809 |
| 167 | Benin | 805 |
| 168 | Mali | 715 |
| 169 | Tanzania | 695 |
| 170 | Nepal | 694 |
| 171 | Burkina Faso | 684 |
| 172 | Afghanistan | 678 |
| 173 | Rwanda | 633 |
| 174 | Guinea | 527 |
| 175 | Mozambique | 593 |
| 176 | Togo | 636 |
| 177 | Uganda | 572 |
| 178 | Eritrea | 544 |
| 179 | Guinea-Bissau | 504 |
| 180 | Ethiopia | 498 |
| 181 | Gambia, The | 494 |
| 182 | Madagascar | 471 |
| 183 | Congo, Democratic Republic of the | 454 |
| 184 | Liberia | 454 |
| 185 | Niger | 413 |
| 186 | Central African Republic | 333 |
| 187 | Burundi | 267 |
| 188 | Malawi | 226 |
| 189 | Somalia | 150 |
CIA World Factbook (2013)
United Nations (2012)

| Rank | Country | US$ |
| --- | --- | --- |
| 1 | Monaco | 159,400 |
| 2 | Liechtenstein | 139,300 |
| 3 | Luxembourg | 110,700 |
| 4 | Qatar | 104,300 |
| 5 | Norway | 101,400 |
| — | Macau | 87,300 |
| 6 | Switzerland | 80,800 |
| 7 | United Arab Emirates | 70,900 |
| 8 | Kuwait | 66,500 |
| 9 | Australia | 65,100 |
| 10 | Denmark | 58,300 |
| 11 | San Marino | 57,900 |
| — | Jersey | 57,600 |
| 12 | Sweden | 57,200 |
| — | Falkland Islands | 55,400 |
| 13 | Singapore | 54,700 |
| 14 | United States | 52,800 |
| 15 | Canada | 52,100 |
| 16 | Finland | 49,200 |
| 17 | Austria | 49,100 |
| — | Isle of Man | 47,800 |
| 18 | Netherlands | 47,600 |
| — | Cayman Islands | 47,000 |
| 19 | Iceland | 46,200 |
| 20 | Ireland | 46,000 |
| 21 | Belgium | 45,600 |
| — | Faroe Islands | 45,300 |
| 22 | Germany | 44,300 |
| — | Guernsey | 43,400 |
| 23 | France | 41,700 |
| 24 | New Zealand | 40,600 |
| 25 | Brunei | 39,800 |
| 26 | United Kingdom | 39,600 |
| — | Virgin Islands, British | 38,900 |
| — | Gibraltar | 38,800 |
| 27 | Japan | 38,500 |
| — | Hong Kong | 38,100 |
| — | Greenland | 37,500 |
| — | Curaçao | 36,800 |
| — | New Caledonia | 35,700 |
| 28 | Israel | 35,400 |
| — | European Union | 34,000 |
| 29 | Italy | 33,600 |
| — | Guam | 28,700 |
| 30 | Spain | 28,600 |
| 31 | Bahamas | 26,200 |
| 32 | Oman | 26,000 |
| 33 | Cyprus | 25,200 |
| 34 | Saudi Arabia | 24,800 |
| 35 | Korea, South | 24,400 |
| 36 | Equatorial Guinea | 24,200 |
| — | Puerto Rico | 23,500 |
| — | Aruba | 23,400 |
| 37 | Slovenia | 22,700 |
| 38 | Malta | 22,600 |
| 39 | Bahrain | 22,100 |
| 40 | Trinidad and Tobago | 22,000 |
| — | Sint Maarten | 21,900 |
| 41 | Greece | 21,800 |
| 42 | Portugal | 21,000 |
| 43 | Taiwan | 20,900 |
| — | French Polynesia | 20,600 |
| 44 | Estonia | 18,300 |
| 45 | Slovakia | 17,700 |
| 46 | Uruguay | 15,800 |
| 47 | Chile | 15,700 |
| 48 | Latvia | 15,400 |
| 49 | Lithuania | 15,300 |
| 50 | Saint Kitts and Nevis | 15,000 |
| 51 | Barbados | 14,700 |
| 52 | Russia | 14,600 |
| — | Northern Mariana Islands | 14,300 |
| 53 | Seychelles | 14,000 |
| 54 | Antigua and Barbuda | 13,500 |
| — | Cook Islands | 13,500 |
| 55 | Croatia | 13,400 |
| 56 | Poland | 13,300 |
| 57 | Hungary | 13,100 |
| 58 | Venezuela | 12,900 |
| 59 | Kazakhstan | 12,700 |
| — | Anguilla | 12,500 |
| 60 | Gabon | 12,200 |
| 61 | Libya | 11,800 |
| 62 | Malaysia | 11,513 |
| 63 | Panama | 11,400 |
| 64 | Argentina | 11,300 |
| 65 | Brazil | 11,100 |
| 66 | Turkey | 10,700 |
| 67 | Mexico | 10,600 |
| 67 | Lebanon | 10,500 |
| 68 | Palau | 10,500 |
| — | World | 10,400 |
| 70 | Costa Rica | 10,300 |
| 71 | Mauritius | 9,000 |
| 72 | Romania | 8,900 |
| 73 | Suriname | 8,800 |
| 74 | Saint Lucia | 8,400 |
| 75 | Colombia | 8,100 |
| 76 | Azerbaijan | 7,900 |
| 77 | Turkmenistan | 7,800 |
| 78 | Belarus | 7,500 |
| 79 | Grenada | 7,400 |
| — | American Samoa | 7,400 |
| 80 | Botswana | 7,300 |
| 81 | Bulgaria | 7,300 |
| 82 | Saint Vincent and the Grenadines | 7,100 |
| 83 | China | 6,900 |
| 84 | Montenegro | 6,800 |
| 85 | Dominica | 6,700 |
| 86 | Peru | 6,700 |
| 87 | Angola | 6,600 |
| 88 | Iraq | 6,600 |
| 89 | South Africa | 6,600 |
| 90 | Cuba | 6,500 |
| 91 | Serbia | 6,000 |
| 92 | Ecuador | 5,900 |
| 93 | Dominican Republic | 5,800 |
| 94 | Maldives | 5,800 |
| 95 | Guyana | 5,800 |
| 96 | Algeria | 5,700 |
| 97 | Namibia | 5,600 |
| 98 | Thailand | 5,600 |
| 99 | Jordan | 5,300 |
| 100 | Iran | 5,200 |
| 101 | East Timor | 5,200 |
| 102 | Macedonia, Republic of | 5,000 |
| 103 | Belize | 4,900 |
| 104 | Jamaica | 4,900 |
| 105 | Bosnia and Herzegovina | 4,800 |
| 106 | Fiji | 4,700 |
| — | Niue | 4,700 |
| 107 | Paraguay | 4,600 |
| 108 | Tonga | 4,500 |
| 109 | Albania | 4,400 |
| 110 | Tunisia | 4,400 |
| 111 | El Salvador | 4,000 |
| 112 | Mongolia | 3,900 |
| — | Kosovo | 3,800 |
| 113 | Ukraine | 3,800 |
| 114 | Cape Verde | 3,700 |
| 115 | Guatemala | 3,700 |
| 116 | Samoa | 3,600 |
| 117 | Tuvalu | 3,600 |
| 118 | Georgia | 3,600 |
| 119 | Indonesia | 3,500 |
| 120 | Armenia | 3,400 |
| 121 | Micronesia, Federated States of | 3,200 |
| 122 | Morocco | 3,200 |
| 123 | Congo, Republic of the | 3,100 |
| 124 | Egypt | 3,100 |
| 125 | Vanuatu | 3,100 |
| 126 | Sri Lanka | 3,000 |
| 127 | Bhutan | 2,900 |
| 128 | Syria | 2,900 |
| 129 | Bolivia | 2,800 |
| 130 | Marshall Islands | 2,800 |
| 131 | Swaziland | 2,700 |
| 132 | Philippines | 2,600 |
| 133 | Papua New Guinea | 2,500 |
| 134 | Honduras | 2,200 |
| 135 | Moldova | 2,200 |
| 136 | Uzbekistan | 1,900 |
| 137 | Nicaragua | 1,900 |
| 138 | Vietnam | 1,900 |
| 139 | Djibouti | 1,800 |
| 140 | Ghana | 1,800 |
| 141 | Solomon Islands | 1,800 |
| 142 | Kiribati | 1,700 |
| 143 | Nigeria | 1,700 |
| 144 | São Tomé and Príncipe | 1,700 |
| 145 | Yemen | 1,700 |
| — | West Bank and Gaza | 1,700 |
| 146 | Zambia | 1,600 |
| 147 | Laos | 1,500 |
| 148 | Sudan | 1,500 |
| 149 | India | 1,500 |
| 150 | Côte d'Ivoire | 1,300 |
| 151 | Kyrgyzstan | 1,300 |
| 152 | Lesotho | 1,300 |
| 153 | Pakistan | 1,300 |
| 154 | Cameroon | 1,200 |
| 155 | Korea, North | 1,200 |
| 156 | Mauritania | 1,200 |
| 157 | Senegal | 1,200 |
| 158 | Chad | 1,200 |
| 159 | Cambodia | 1,000 |
| 160 | Kenya | 1,000 |
| 161 | Tajikistan | 1,000 |
| 162 | South Sudan | 1,000 |
| 163 | Burma | 900 |
| 164 | Bangladesh | 900 |
| 165 | Comoros | 900 |
| 166 | Benin | 800 |
| 167 | Haiti | 800 |
| 168 | Sierra Leone | 800 |
| 169 | Zimbabwe | 800 |
| 170 | Afghanistan | 700 |
| 171 | Burkina Faso | 700 |
| 172 | Mali | 700 |
| 173 | Tanzania | 700 |
| 174 | Guinea | 600 |
| 175 | Mozambique | 600 |
| 176 | Nepal | 600 |
| 177 | Somalia | 600 |
| 178 | Rwanda | 600 |
| 179 | Eritrea | 500 |
| 180 | Gambia, The | 500 |
| 181 | Guinea-Bissau | 500 |
| 182 | Togo | 500 |
| 183 | Uganda | 500 |
| 184 | Central African Republic | 400 |
| 185 | Ethiopia | 400 |
| 186 | Madagascar | 400 |
| 187 | Niger | 400 |
| 188 | Liberia | 400 |
| 189 | Burundi | 300 |
| 190 | Congo, Democratic Republic of the | 300 |
| 191 | Malawi | 300 |

| Rank | Country | US$ |
| --- | --- | --- |
| 1 | Liechtenstein | 158,977 |
| 2 | Monaco | 151,878 |
| 3 | Luxembourg | 105,287 |
| 4 | Norway | 100,056 |
| 5 | Qatar | 93,831 |
| — | Bermuda | 85,762 |
| 6 | Switzerland | 78,924 |
| — | Macau | 78,275 |
| 7 | Australia | 67,869 |
| 8 | San Marino | 59,303 |
| — | Cayman Islands | 58,942 |
| 9 | Kuwait | 56,367 |
| 10 | Denmark | 56,253 |
| 11 | Sweden | 55,072 |
| 12 | Canada | 52,283 |
| 13 | Singapore | 52,141 |
| 14 | United States | 51,163 |
| 15 | Japan | 46,838 |
| 16 | Austria | 46,604 |
| 17 | Netherlands | 46,073 |
| 18 | Ireland | 46,032 |
| 19 | Finland | 45,741 |
| 20 | Belgium | 43,707 |
| 21 | United Arab Emirates | 41,692 |
| 22 | Iceland | 41,670 |
| 23 | Germany | 41,376 |
| — | Greenland | 41,266 |
| 24 | Brunei | 41,127 |
| 25 | Andorra | 41,122 |
| 26 | France | 39,617 |
| 27 | United Kingdom | 39,367 |
| — | New Caledonia | 38,869 |
| 28 | New Zealand | 38,399 |
| — | Hong Kong | 36,827 |
| 29 | Italy | 33,069 |
| — | European Union | 32,507 |
| — | Virgin Islands, British | 32,375 |
| 30 | Israel | 31,537 |
| 31 | Spain | 28,278 |
| — | Puerto Rico | 28,021 |
| 32 | Cyprus | 26,462 |
| — | French Polynesia | 26,113 |
| 33 | Saudi Arabia | 25,136 |
| — | Aruba | 24,852 |
| 34 | Oman | 23,570 |
| 35 | Korea, South | 23,052 |
| 36 | Bahrain | 23,039 |
| — | Turks and Caicos Islands | 22,448 |
| 37 | Greece | 22,377 |
| 38 | Slovenia | 21,947 |
| 39 | Bahamas | 21,624 |
| 40 | Malta | 20,514 |
| — | Anguilla | 20,048 |
| 41 | Portugal | 20,006 |
| 42 | Equatorial Guinea | 19,680 |
| 43 | Czech Republic | 18,428 |
| — | Netherlands Antilles | 18,360 |
| 44 | Trinidad and Tobago | 17,365 |
| 45 | Estonia | 17,335 |
| 46 | Slovakia | 16,774 |
| 47 | Barbados | 16,004 |
| 48 | Libya | 15,566 |
| 49 | Chile | 15,363 |
| — | Cook Islands | 14,918 |
| 50 | Gabon | 14,747 |
| 51 | Uruguay | 14,703 |
| 52 | Saint Kitts and Nevis | 14,267 |
| 53 | Russia | 14,178 |
| 54 | Lithuania | 13,984 |
| 55 | Latvia | 13,773 |
| 56 | Antigua and Barbuda | 13,207 |
| 57 | Croatia | 13,105 |
| 58 | Poland | 12,820 |
| — | Montserrat | 12,774 |
| 59 | Venezuela | 12,767 |
| 60 | Hungary | 12,490 |
| 61 | Kazakhstan | 12,445 |
| 62 | Nauru | 12,022 |
| 63 | Argentina | 11,610 |
| 64 | Malaysia | 11,513 |
| 65 | Brazil | 11,347 |
| 66 | Seychelles | 11,164 |
| 67 | Turkey | 10,653 |
| 68 | Palau | 10,271 |
| — | World | 10,269 |
| 69 | Mexico | 9,795 |
| 70 | Panama | 9,534 |
| 71 | Costa Rica | 9,387 |
| 72 | Suriname | 9,376 |
| 73 | Mauritius | 9,238 |
| 74 | Lebanon | 9,143 |
| 75 | Romania | 7,787 |
| 76 | Colombia | 7,752 |
| 77 | Maldives | 7,700 |
| 78 | Grenada | 7,418 |
| 79 | Azerbaijan | 7,383 |
| 80 | South Africa | 7,336 |
| 81 | Saint Lucia | 7,289 |
| 82 | Iran | 7,217 |
| 83 | Botswana | 7,191 |
| 84 | Bulgaria | 7,004 |
| 85 | Dominica | 6,958 |
| 86 | Peru | 6,825 |
| 87 | Belarus | 6,726 |
| 88 | Montenegro | 6,514 |
| 89 | Turkmenistan | 6,469 |
| 90 | Saint Vincent and the Grenadines | 6,349 |
| 91 | Cuba | 6,301 |
| 92 | China | 6,070 |
| 93 | Thailand | 5,775 |
| 94 | Dominican Republic | 5,731 |
| 95 | Namibia | 5,668 |
| 96 | Ecuador | 5,648 |
| 97 | Angola | 5,586 |
| 98 | Algeria | 5,380 |
| 99 | Jamaica | 5,343 |
| 100 | Serbia | 5,315 |
| 101 | East Timor | 4,835 |
| 102 | Belize | 4,795 |
| 103 | Fiji | 4,572 |
| 104 | Iraq | 4,557 |
| 105 | Macedonia, Republic of | 4,548 |
| 106 | Bosnia and Herzegovina | 4,517 |
| 107 | Tonga | 4,429 |
| 108 | Jordan | 4,414 |
| 109 | Tunisia | 4,150 |
| 110 | Tuvalu | 4,042 |
| 111 | Paraguay | 3,878 |
| 112 | Ukraine | 3,872 |
| 113 | Cape Verde | 3,850 |
| 114 | Albania | 3,809 |
| 115 | El Salvador | 3,790 |
| 116 | Marshall Islands | 3,773 |
| 117 | Mongolia | 3,673 |
| 118 | Georgia | 3,632 |
| 119 | Samoa | 3,607 |
| 120 | Guyana | 3,585 |
| 121 | Indonesia | 3,557 |
| 122 | Congo, Republic of the | 3,404 |
| 123 | Armenia | 3,351 |
| 124 | Guatemala | 3,340 |
| 125 | Micronesia, Federated States of | 3,165 |
| 126 | Swaziland | 3,137 |
| 127 | Egypt | 3,115 |
| 128 | Vanuatu | 3,040 |
| 129 | Morocco | 2,952 |
| 130 | Sri Lanka | 2,816 |
| — | Kosovo | 2,813 |
| 131 | Philippines | 2,587 |
| 132 | Bolivia | 2,576 |
| 133 | Bhutan | 2,509 |
| 134 | Palestine, State of | 2,431 |
| 135 | Honduras | 2,339 |
| 136 | Papua New Guinea | 2,187 |
| 137 | Syria | 2,126 |
| 138 | Moldova | 2,064 |
| 139 | Solomon Islands | 1,837 |
| 140 | Uzbekistan | 1,801 |
| 141 | Nicaragua | 1,754 |
| 142 | Kiribati | 1,745 |
| 143 | Vietnam | 1,716 |
| 144 | Ghana | 1,605 |
| 145 | Djibouti | 1,583 |
| 146 | Nigeria | 1,555 |
| 147 | Zambia | 1,527 |
| 148 | India | 1,516 |
| 149 | São Tomé and Príncipe | 1,386 |
| 150 | Sudan | 1,383 |
| 151 | Yemen | 1,376 |
| 152 | Laos | 1,369 |
| 153 | Côte d'Ivoire | 1,230 |
| 154 | Cameroon | 1,202 |
| 155 | Pakistan | 1,201 |
| 156 | Lesotho | 1,191 |
| 157 | Kyrgyzstan | 1,183 |
| 158 | Burma | 1,126 |
| 159 | Mauritania | 1,018 |
| 160 | Senegal | 1,017 |
| 161 | Tajikistan | 953 |
| 162 | Cambodia | 944 |
| 163 | Kenya | 943 |
| 164 | South Sudan | 928 |
| 165 | Comoros | 858 |
| 166 | Bangladesh | 822 |
| 167 | Chad | 818 |
| 168 | Benin | 752 |
| 169 | Sierra Leone | 725 |
| 170 | Zimbabwe | 714 |
| 171 | Haiti | 706 |
| 172 | Mali | 691 |
| 173 | Afghanistan | 683 |
| 174 | Nepal | 656 |
| 175 | Burkina Faso | 649 |
| 176 | Rwanda | 620 |
| 177 | Tanzania | 608 |
| 178 | Uganda | 598 |
| 179 | Togo | 590 |
| 180 | Korea, North | 583 |
| 181 | Mozambique | 579 |
| — | Zanzibar | 565 |
| 182 | Guinea | 532 |
| 183 | Gambia, The | 512 |
| 184 | Guinea-Bissau | 510 |
| 185 | Eritrea | 507 |
| 186 | Central African Republic | 483 |
| 187 | Madagascar | 447 |
| 188 | Niger | 395 |
| 189 | Liberia | 356 |
| 190 | Malawi | 355 |
| 191 | Ethiopia | 354 |
| 192 | Congo, Democratic Republic of the | 286 |
| 193 | Burundi | 229 |
Published - December 2014
---
---